Xubster is a file hosting platform with a difference. Like many file hosting services, Xubster has both a free version and a paid version.
The Premium version offers considerably more advantages over the free version. For instance, you will get instant downloads, an ad-free experience, and the ability to download multiple files simultaneously.
You will also be able to make secure payments and maintain anonymity while using the service.
What is Xubster?
Xubster is a platform that allows you to store and access all your files from the same place. You can store all types of files, from images, videos, audio, documents, and flash.
Apart from the upload and download functions, Xubster also offers backup services, and advanced access tools that allow you to better manage your uploads and downloads.
Xubster is primarily geared toward people who often need to access data from different devices and locations but don't fancy carrying around USB sticks or hard drives.
It is also a great platform for sharing files with a large number of people, such as a workgroup. To share a file this way, you need to make set its access level to public, then share the link with your intended audience.
Notably, Xubster has some strict terms of use intended to make the site safe for all users and in compliance with the law. For instance, you cannot upload obscene, violent, hateful, malicious, or copyrighted content. You also cannot hotlink any files you upload on Xubster.com.
As further proof of its global appeal, Xubster is available in 13 different languages.

Signing Up with Xubster
Opening an account with Xubster is a fairly easy process that you can complete within a few minutes.
First, you need to go to the 'Sign Up' page, which is accessible from the main menu. Then, enter your preferred username, e-mail, and password. For the password, you need to enter it twice for authentication purposes.
Once you sign up, you will be on the free version, which has limited features. So, if you want a better experience, subscribe to the premium version.
Xubster Premiun Benefits
Below is the full list of features included in the Xubster Premium package:
High Download Speeds – Up to 20x faster speed when downloading files on Premium. Only your internet speed can limit your downloads.
Simultaneous Downloads – You can download an unlimited number of files simultaneously at any time.
No Hidden Fees – Xubster operates on a 'what you see is what you get' principle. The subscription prices are exactly as they appear on the site , you will not be charged any extra fees during your subscription.
Instant Downloads – Your downloads start immediately after you click the download button. There are no delays or redirections.
2 TB Storage Space – You can host and download extremely large files with minimum fuss
Round-the-Clock Support – The support staff is available 24/7/365 and responds fast to all questions and requests.
No Ads – No annoying and spammy ads to interfere with your experience
User-Friendly Interface – The site is simple and easy to navigate. The simple menu makes it easy to upload and download any file you wish to. There's also a link-checker to confirm whether a particular link is available.
Secure and Private Experience – You have the option to make your payments via cryptocurrency or other anonymous services that do not require your personal information. This is important if you wish to remain anonymous when using the service.

How Much Does Xubster Cost?
Xubster.com offers 4 subscription modes; 31 days, 90 days, 180 days, and 1 year. Below are the current prices for each of the packages:
| | | | |
| --- | --- | --- | --- |
| 31 Days | 90 days | 180 days | 1 year |
| $24.95 | $49.95 | $86.95 | $112.95 |
As you can see, the prices are relatively affordable and are worth the services offered by the premium subscription. Apart from the low prices, the other good thing about getting an Xubster subscription is the fact that the payment options are very many and cover almost every country.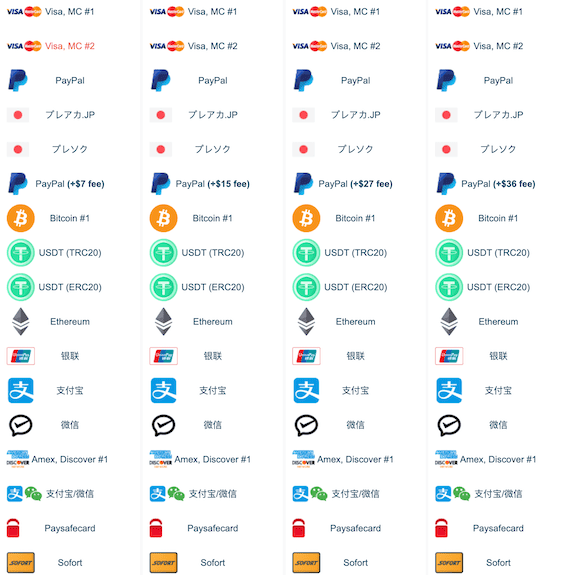 Xubster User Experience and Test
Being a file hosting site, Xubster can only be tested by the upload and download speeds it offers users.
So, we did some speed tests, primarily by uploading and downloading several files of different sizes at different times.
As expected, both uploads and downloads were faster on the Premium version. In the free version, the experience seems limited, even when using a fast network.
Many users also confirm the same in various online forums and posts.
Making Money With Xubster
Xubster allows you to become an affiliate and earn from using the site. The Affiliate Program is open to anyone looking to monetize their digital content.
With the program, you can earn up to 75% of your sales. The earnings are split into different categories as follows:
65% from sales and recurring payments
10% from site sales
10% from the earnings of your referrals
What's more, all payouts are made on a daily basis, provided they exceed the minimum threshold of $5. You can get your payouts through a variety of channels, including credit cards, e-wallets, and crypto.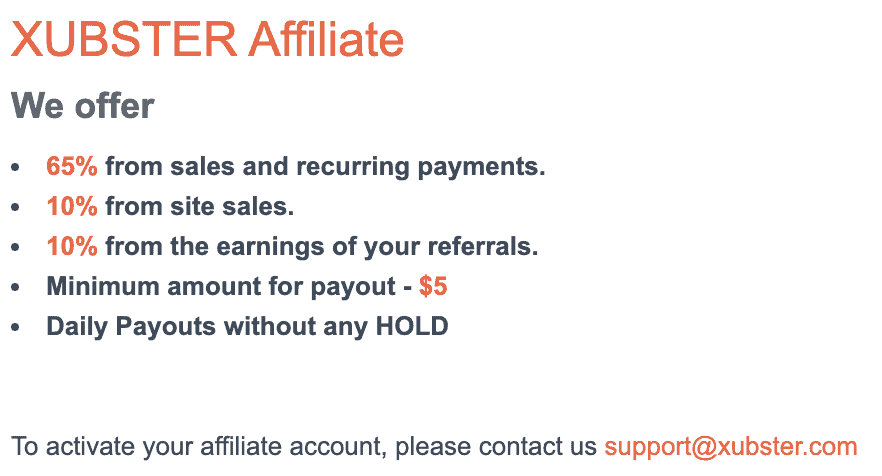 Our Verdict on Xubster
Xubster.com has made a name for itself as a quality and credible file hosting service. The premium package, in particular, offers unbelievable advantages and it does feel like a bargain.
For one, the site offers top-notch privacy options, with the anonymous payment option being the backbone of this.
Further, the site does not save any data you upload and does encrypt all your files, preventing others from accessing them.
All said we would recommend getting a Xubster Premium subscription if you are looking for seamless and secure access to your files.